---
Business Continuity Management
Business Continuity Management
focuses on the resilience of your company to risks that threaten its existence and on the fulfilment of industry-specific legal and contractual requirements.
---
We focus on the resilience of your company against risks that threaten its existence and the fulfilment of industry-specific legal and contractual requirements. We meet the risks and challenges by applying our more than 20 years of experience, methods and tools to them. Our approach is based on internationally recognized standards (ISO 22301 / ISO 27031 and BCI Good Practice Guideline) and our many years of project experience.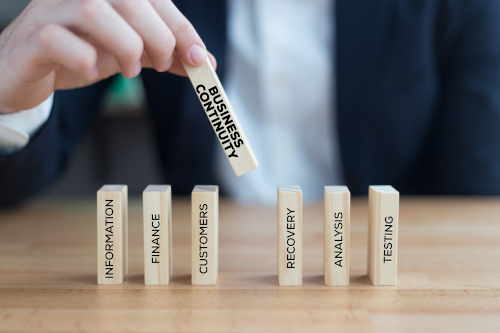 Consulting services
As a partner, we offer them individualized and integrative concepts in BCM. We help you to find an answer to your BCM problems and support you in realizing your individual solution. We audit, optimize or build your BCM from the idea to the implementation together. The
Controllit AG
procedure model is explained here:
BCM Consulting
BCM audit
With the BCM audit we prepare you for certification or check your planned or already existing BCM system. We assess the maturity level of your BCM organization, processes and measures by evaluating your documentation and conducting workshops and interviews. We summarize the results in a report and give you our recommendation assessed according to priority, impact and effort.
BCM improvement and implementation
Our consulting team will support you in the further improvement or implementation of your BCM. Based on our process model, we adapt the consulting services individually to your requirements and needs.
Coaching
Our experts coach them during the ongoing project so that they can apply the knowledge independently in the company. Our goal is that they learn the necessary knowledge during the project and put it directly into practice. We see ourselves as a sparring partner who prepares them for the next worst case.
BCM Service
If you have no resources or capacities to operate a BCM yourself, then outsource your BCM with our help. Our
BCM Service
is a combination of consulting services and software.
Costs
The cost of our support varies greatly from project to project, so we can not give any specific details here, but we support companies of almost any size, from small businesses to medium-sized and large enterprises. Please contact us and we will find a price range that meets your needs and requirements.