BCM Business Continuity Management
We focus on the resilience of your company against risks that threaten its existence and the fulfilment of industry-specific legal and contractual requirements. We meet the risks and challenges by applying our more than 20 years of experience, methods and tools to them. Our approach is based on internationally recognized standards (ISO 22301 / ISO 27031 and BCI Good Practice Guideline) and our many years of project experience.

Consulting services
As a partner, we offer them individualized and integrative concepts in BCM. We help you to find an answer to your BCM problems and support you in realizing your individual solution. We audit, optimize or build your BCM from the idea to the implementation together. Our BCM procedure model is explained here: BCM Consulting

BCM audit
With the BCM audit we prepare you for certification or check your planned or already existing BCM system. We assess the maturity level of your BCM organization, processes and measures by evaluating your documentation and conducting workshops and interviews. We summarize the results in a report and give you our recommendation assessed according to priority, impact and effort.

BCM improvement and implementation
Our consulting team will support you in the further improvement or implementation of your BCM. Based on our process model, we adapt the consulting services individually to your requirements and needs.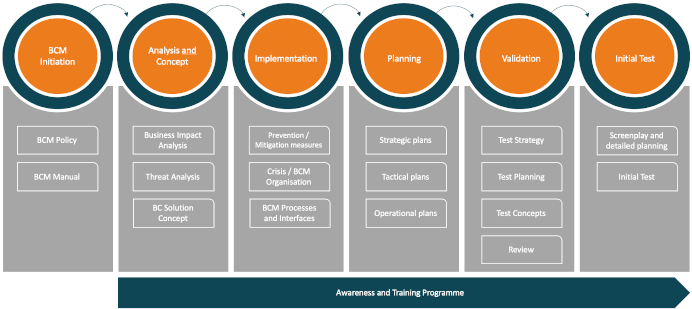 Coaching
Our experts coach them during the ongoing project so that they can apply the knowledge independently in the company. Our goal is that they learn the necessary knowledge during the project and put it directly into practice. We see ourselves as a sparring partner who prepares them for the next worst case.
BCM Service
If you have no resources or capacities to operate a BCM yourself, then outsource your BCM with our help. Our BCM service is a combination of consulting services and software.
What is BCM Business Continuity Management?
BCM is a holistic management process that identifies potential threats to an organization and the impact on regular business operations and minimizes risks with a low probability of occurrence but the highest impact. BCM uses an effective response to strengthen the resilience of the organization, thereby preventing business disruptions.
What is the goal of Business Continuity Management?
BCM identifies potential threats and minimizes the resulting risks.

Promotes the organization's resilience and prepares a response to a worst-case scenario thanks to established procedures for possible losses of critical resources (employees, buildings, IT and suppliers).

Ensure the continuity of time-critical business processes by developing contingency plans with analytical methods, relieving employees during a crisis and setting priorities for a return to normal operations.

Meeting requirements within the organization as well as those of customers and other stakeholders.
How can Business Continuity Management help my company?
To ensure that products, services and support are continuously offered in the market and that customers remain satisfied, BCM helps to better understand the organization in order to be prepared for the worst case with reactive measures. Effective BCM complements the organization's existing risk management and ensures that an acceptable level of emergency operations is maintained in the event of an emergency or crisis.

A BCM organization helps to prepare for this situation. To do this, it is imperative that management provides sufficient human, technical and financial resources to meet the objectives of business continuity management. The BCM organization implements the BCM system by introducing the necessary structures, processes, methods and tools to prepare for the emergency and crisis situation.

Benefits of Business Continuity Management for companies
Identify current and future threats and provide effective response processes.

Strengthening the resilience of the company.

Prevent or minimize the impact of business process disruption.

Ensuring essential tasks and processes in the worst-case scenario.

Minimizing downtime and shortening restart times.

Meeting legal, regulatory and customer requirements.

Proven resilience towards customers and suppliers and in case of due diligence.
Costs
The cost of our support varies greatly from project to project, so we can not give any specific details here, but we support companies of almost any size, from small businesses to medium-sized and large enterprises. Please contact us and we will find a price range that meets your needs and requirements.
FAQ
What is BCM?
Business Continuity Management is a holistic management process that identifies potential threats to an organization and the impact on regular business operations and minimizes risks. BCM uses an effective response to strengthen the organization's resilience, thereby preventing business disruptions.
Why is BCM important?
BCM ensures that time-critical business processes can continue in the event of an incident. In such a case, the company's performance in the event of a crisis must be brought to the defined level. In addition, the well-being of the employees, the assets and the image of the company must be protected. Important interest groups (e.g. shareholders, employees, customers) and values (reputation, assets and value-creating activities) are protected.
From when should BCM be scheduled?
Implementing or comprehensively revising Business Continuity Management is not an easy task. The individual activities and the interdependencies of the activities are too diverse. It helps to be able to follow a clear, defined procedure. We have developed such an approach in many projects and with the help of many years of expert experience and tested it in practice.

BCM requires careful preparation, which starts with agreeing the essential boundary conditions, targets and objectives with top management and having them sign off on them.